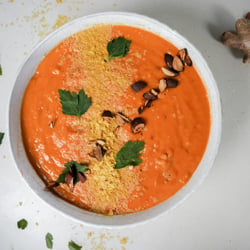 High Protein red lentil dahl
This high-protein Pumpkin Red lentil dahl is a heart and flavourful meal for the cold winter evening.
It was a cold and rainy evening when i first made this dahl. I had hear so much about this hearty and flavourful dish, and i was excited to finally try it.
I took my first bite and was immediately blown away by the depth of flavour. The creamy pumpkin and the tender red lentils were perfectly balanced by the bold spices, and i could taste the hint of tomato and coconut in every bite.
Made with nourishing red lentils and creamy pumpkin, this dahl is packed with plant-based protein to keep you feeling satisfied and energised.
The aromatic blend of spices, give this dish a rich and aromatic flavour, while topping of crushed almonds adds a crunch texture
Category: Lunch, Dinner
Cuisine: Indian
Servings:

6
Prep Time:

20min

Cook Time:

40min

Total Time:

15min
Ingredients
2 cup dry red lentils

½ small pumpkin

1 ½ brown onion

1 ½ teaspoon ground coriander

1 ½ teaspoon ground coriander

1 ½ tablespoon chopped fresh ginger

800 ½ grams crushed tomatoes

2 ½ tablespoons nutritional yeast

¼ cup crushed tamari almonds
Intructions
LETS MAKE THE MAGIC HAPPEN

Preheat the oven to 200c

Rinse the red lentils in a fine mesh sieve and set aside

In a large pot, heat a little oil over medium heat. Add the onion and saute until translucent

Roast the pumpkin on a lined baking tray for 15 minutes

In a high speed blender, combine the tomato, coconut cream an pumpkin, blend until smooth consistency

Add the red lentils to the pot and stir to combine. Pour enough water to cover the ingredients by about an inch. Bring to boil, then reduce the heat to a simmer and cover pot.

Pour the pumpkin cream mixture over the lentils.

Simmer the dahl for about 20 minutes, or until the lentils are tender

Remove the pot from the heat and sprinkle with the nutritional yeast and crush almonds. Serve hot.

Enjoy!
Notes
* Nutrition information is a rough estimate based on products I use.
Nutrition
Serving:

1 Serving

Calories:

600 calories