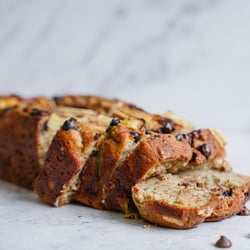 PROTEIN BANANA BREAD
7 Steps to making the best banana bread.
Category: Snack
Cuisine: Dessert, Breakfast
Servings:

11
Prep Time:

15min

Cook Time:

1h

Total Time:

1h 15min
Ingredients
1 ½ Cups Protein flour

½ Cup Protein powder

1 ½ teaspoon Baking soda

½ teaspoon Salt

3 ½ ripe bananas

½ cup Oat whipping cream

¼ cup Maple syrup

2 ¼ Chia eggs

⅓ cup Coconut oil

1 ⅓ teaspoon vanilla extract
Intructions
LETS MAKE THE MAGIC HAPPEN

Preheat your oven to 175C. Grease a 9x5 inch loaf pan

In a medium bowl, whisk together the flour, protein powder, baking soda, and salt

In a separate large bowl, mix the mashed bananas, oat whipping cream, maple syrup, chia eggs, melted coconut oil, and vanilla extract

Add the dry ingredients to the wet ingredients and mix until just combined. Be careful not to overmix

Pour the batter into the prepared loaf tin and bake for 50-60 minutes, or until a toothpick inserted in the centre comes out clean

Allow the bread to cool in the pan for 10 minutes, then remove it from the pan and let it cool completely on a wire rack

Slice and enjoy!
Notes
* Nutrition information is a rough estimate based on products I use.
Nutrition
Serving:

1 Serving

Calories:

600 calories